Just so you know…
Being a running guide in Iceland has a lot of advantages. The obvious one being the privilege to run in such beautiful nature and actually getting paid for it. But there can be other advantages as well. Last fall, while guiding some Danish people, I discovered that one of them was working for Ecco. He was trying out the newest version of their trail shoe, the Ecco Biom Trail FL that will hit the stores now in February or March I believe. He offered to send me a pair so that I could try them out in the Icelandic mountains. However, I already had an extensive experience of their trail shoes and even though I got the shoes I'm about to review for free, I did buy the Ecco Biom Trail 1.1 with my own money and my review is in no way affected by the fact that the newer pair was a gift.


Ecco Running Shoes
"We make running shoes not because we have to, but because we believe we have something to offer to runners."
Is this just another slogan or does Ecco truly have something unique to offer runners?
Well, one thing is for sure. Ecco sure doesn't  have to make running shoes. They are the third largest casual shoe producer in the world with 18,500 employees worldwide. Their shoes are known for their quality, comfort and style. So why should a company so successful at making casual shoes and dress shoes start making running shoes?
Ecco runs their own research center and before designing  running shoes, they did a whole lot of research. The result was the biom line which now encompasses everything from sandals and casual shoes to hiking shoes, golf shoes and running shoes. Biom stands for Biomechanical Optimization. The idea is to let the foot do what it does best and enhance it´s natural motion rather than work against it.
The Ecco Biom Trail FL, however, is far from being a barefoot shoe. It´s minimal but not radically so. It´s flexible in the forefoot where the foot flexes in running and is fairly low to the ground with a 7 mm heel to forefoot drop.
What Makes them Unique
So what´s the difference between these shoes and countless other running shoes with similar specs?  The defining factor of Ecco running shoes, besides superior construction, is the midsole.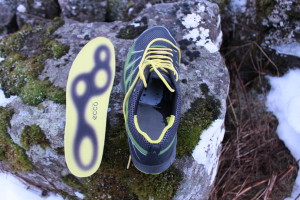 This is where it get´s interesting. No other running shoes in the world (that I know of) uses injected PU in the midsole. Typically, midsoles in running shoes consist  of EVA foam, gel or some kind of combination of the two. The only midsole used in running shoes that comes close to the one Ecco uses is Adidas´ Energy Boost, even though it´s not quite the same.
The result is a cushioning that´s not as soft as in a typical running shoe, yet substantial. Because of the solidness of PU, it also means Ecco is able to shape the last without it getting distorted. They´ve made full use of this advantage by scanning the feet of more than 1000 athletes to come up with an anatomical last that suites most types of feet.  The density of the material also works great as protection from pointy rocks. So while the material isn't the most flexible, it removes the need of an inflexible protection plate. Finally, it means the cushioning will last much longer than in other running shoes and won´t be as affected by temperature changes.
The downside? If you like your running shoe very soft and cushy, these shoes are probably not for you. Also, the stiffness of of the material makes the shoe less flexible even though Ecco has managed to make it flexible where it counts. PU is also heavier than Eva foam and gel which makes the Ecco Biom Trail FL heavier than most other comparable running shoes.
Tested and Tried
In 2012, I bought the Ecco Biom Trail 1.1. The shoe has evolved since then into the Trail FL, but at core it´s the same shoe. I put more milage on those shoes than any other shoes I´ve run in.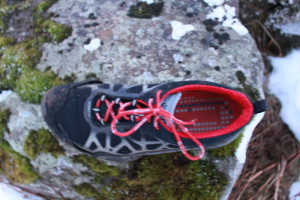 Yet even today, the cushioning feels the same as in the beginning. In fact, the only reason I stopped using them was because the upper finally started to fall apart and the grip was not quite as good any more.
I ran in the Ecco Biom Trail 1.1. in the woods, mountains, mud, snow, lava, rock, moss and grass. I did the Hengilshlaup in them 2012 (a 50 mile or 86 km mountain ultra). In 2013 I used them in Iceland´s most popular ultra race  (55 km) which is also one of the countries most popular hiking trails.
My Impressions with the Trail 1.1
So after taking  the shoe through fire and ice, what are my thoughts? First of all, it´s unlike any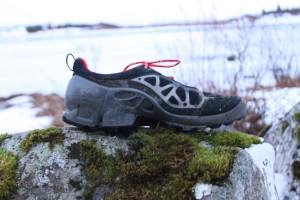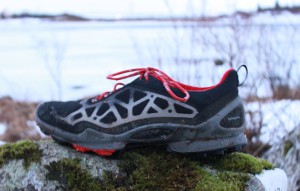 other running shoe I´ve worn. Because of the solid midsole, it feels like its a partly casual shoe, partly running shoe. When you start running, however, there is no question the shoe was designed to do just that.
The cushioning has a hard feel to it but if protection is the objective, it does the job superbly. If I want to spare my feet, these are the shoes of choice.  Some people might not like the hard feel but I really do. Nothing annoys me more than super soft cushioning that drains my energy. It´s not ideal for road running, however, so if your looking for a hybrid that you can use for roads and trails, this is not the right choice, but on the trail I really like the feel of the cushioning.
Natural Running
In general I like minimal shoes. I like them neutral, light, very flexible , low to the ground, preferably with a 4 mm drop and as much ground feel as possible.  That´s the kind of shoes I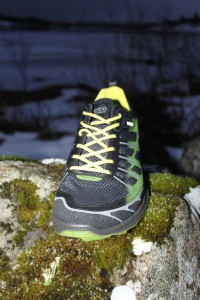 enjoy the most running in because I feel they enhance rather than hinder the flow in my running. The Ecco Trail is a little bulkier and stiffer than such a shoe. But they are also sturdier and offer more protection. In long runs, my feet and calves don´t get as beat up when I use the Ecco Trail. The tradeoff lies in less ground feel and a bit heavier shoes but amazingly, I don´t feel they have a negative affect on my running form and flow. I love running in the Ecco Trail shoes and in my opinion Ecco succeeded in creating a shoe that enhances natural running in spite of being rather sturdy for a minimal shoe.
When I asked if they would not like to make an even more minimal shoe in addition to this one, Ecco´s representative replied that they might indeed do so in the future but that it required more research on their part. From now on, Ecco has decided to move away from road running shoes and focus solely on trail running shoes since it rhymes better with their focus on outdoors activities. All the more reason to be optimistic that we will see a lighter, more nimble trail running shoe in addition to this one from Ecco in the future.
What Has Changed?
The Ecco Biom Trail FL is considerably different from my old faithful Ecco Trail 1.1 But has Ecco succeed in evolving the shoe for the better? Have in mind theret one version in between these two shoes (Ecco Biom Trail 1.2) so some of the changes have already occurred .
Less PU in Upper

In the new shoe, the injected PU does not interfere with the upper as much. In the Ecco Trail 1.1
the heal and sides, especially the medial side, was given added stability by letting the PU from the midsole invade the upper so to speak. While it made the shoe visually unique, in my opinion it was not adding anything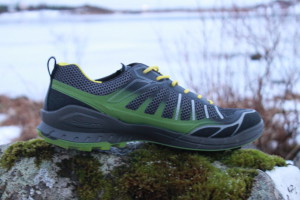 aesthetically. Neither was the added stability necessary. In fact, I like the heal much better in the Ecco Biom Trail FL. Even though the hard heel of the Trail 1.1 never caused me any troubles, I like the soft,
hugging feel of the new heal much better. I also feel the shoe looks better without the spacy PU that made them look bulky and weird.
The Outer Soul
The biggest change between the two shoes is without question the outer sole. One of the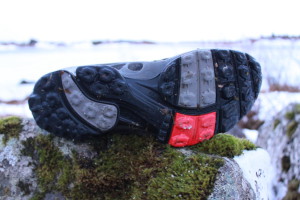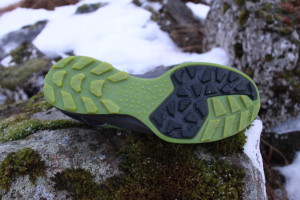 unique features of the Eccom Biom Trail when it originally came out was an outer sole supposedly mimicked the plantar fascia which is the thick tissue on the bottom of the foot. It connects the heel bone to the toes and creates the arch of the foot. As a physical therapist, I find the idea interesting. I would even say it makes sense. But whether such an idea translates into a practical, functional feature is another story. It seem like Ecco decided it did not because they have dropped their innovative outsole for a more traditional looking. I quite liked plantar fascia feature and haven´t made up my mind if the change was a good move or not.
They also changed the shape and the pattern of the outsole. According to Ecco, the outsole is now more versatile. In addition to being ideal on soft ground, it's supposed to handle Mountain running better with changing terrain like flat rocks.  I find this to be true, the shoes have a good general grip and this change is definitely for better.
Craftsmanship and Quality
Ecco is known for quality at a good price. And this is no exception. They use quality material,
and their craftsmanship is superb. In my old shoes, the upper was starting to fall apart (after extensive use, mind you). In the new ones, they seem to have fixed the problem. The more rubbery, protective material in the toes has been better integrated with the softer, more breathable material in the upper now. So I expect these shoes to last even longer!
The trail shoe comes in three versions. The standard one, which is the one I have, has an upper made of synthetics. Then there is a watertight Gore-tex version. And finally one made out of Ecco's signature yak leather. Unfortunately, I haven't tried the Yak leather but reviews are very promising implying great comfort and amazingly good breathability.
Closing Thoughts
As I mentioned before, the Ecco Biom FL is at the core still the same shoe as the first version and the feel of it when running is very similar. Which is a good thing because it´s a great shoe and quite unique. In general, I´d say the changes have made the shoe even better than it was,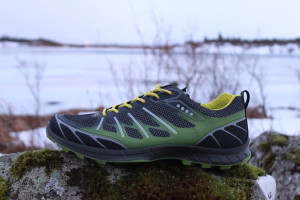 which is not always the case with running shoes.
The Ecco Biom Trail FL is a quality Trail shoe that is bound to outlast any shoe you compare it to. So even though it seems a little pricey, with this in mind it´s really not expensive.
It´s a good choice if you´re looking for shoes that are kind to your feet and yet promotes a natural running style and a responsive ride. I would especially recommend them for long runs and races. For shorter races and tempo runs, I like a lighter, more nimble shoe with more ground feel. But that's just my preference. If you´re used to traditional shoes with more protection and a 12 mm. drop, the Ecco Biom Trail FL just might spell out freedom for you and be a safe step towards minimalism.
Tell me
Have you tried the Ecco trail shoes? What is your opinion of them? Do you have any further questions about the version that's coming out this spring?